Concussions are no joke!!!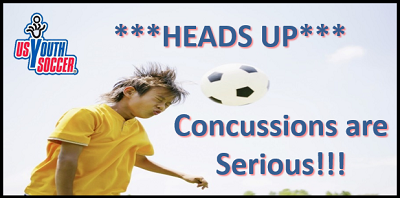 A concussion is a type of traumatic brain injury caused by a bump, blow, or jolt to the head or by a hit to the body that causes the head and brain to move rapidly back and forth. Concussions can have long-term impacts on young athletes, such as on their health, memory, and learning.
"Education is a core element to the goals of US Youth Soccer and furthering the awareness and steps to minimize potential serious injuries to our youth athletes is paramount," said John Sutter, president of US Youth Soccer. "Concussions are serious and materials that are now available will get the right information about how to identify and manage a concussion directly into the hands of the people that need it the most – our youth sports coaches, parents and the athletes themselves."
"Heads Up: Concussion in Youth Sports," is designed to help coaches, parents, and fellow athletes recognize the symptoms of a concussion and provides actions that need to be taken when an athlete is showing signs of a concussion. Campaign materials are available at no cost and include:
An online training for coaches;

A fact sheet for coaches;

A fact sheet for athletes;

A fact sheet for parents;

A magnet with concussion facts for coaches and parents;

A poster with concussion facts for coaches and sports administrators; and

A quiz for coaches, athletes, and parents.
Since youth sports administrators play a vital role in sharing educational materials with their coaches, the campaign encourages youth sports program administrators to order and distribute the materials to the coaches in their programs at the beginning of the sports season.
Youth sport administrators and coaches are encouraged to order as many materials as needed and/or download extra copies of the concussion fact sheets. CDC's aim is to get the information into the hands – and heads – of all coaches, parents and athletes. Take the online training or order or download the "Heads Up" materials free-of-charge at
www.cdc.gov/Concussion
.