Registration Closes August 6th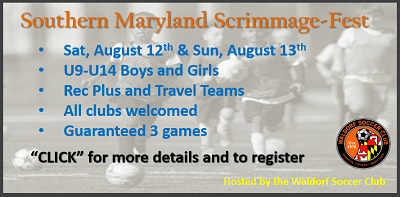 Southern Maryland Scrimmage Fest (SMSF) is a great day of soccer for your team to play in a no pressure environment against different opponents. With the wide range of teams in attendance there are enough levels of play to satisfy all teams looking for a quality pre-season event.
Summer 2017 SMSF will be held the weekend of August 12th and 13th at Bryantown soccer complex. Our intent is to have the boys play on Saturday the 12th and the girls play on Sunday the 13th.
Cost for the event will be $100 for U9-U12 teams and $150 for U13 and U14 teams, which will guarantee each team at least 3 games over the day. A center Ref will be provided for each game.
This is an opportunity for teams in the Southern MD area to get in some early preseason quality matches, without the pressures of a "real tournament. No carding, No check-in, No posting of scores, just show up and play.
This is also a great way to get your "New" rosters some competitive touches before the seasons start.
Rules:
Games are 35 minutes long

Each team will get 3 games minimum

There is no halftime, but teams switch ends on a dead ball situation around 17 minutes in.

Substitutions are unlimited and can be made by either team at any throw in, dead ball or other stoppage of play, regardless of possession, but always with the referee`s permission.

Offsides will be called as best we can.

No heading rule for U11 and below will be in effect.

We will implement the playout line for our U10 and below teams.

Any Rec Plus teams will play 1 age group down (making all Rec Plus teams eligible to include U15 Rec Plus teams)
This event is open to all Rec Plus and Travel teams in PG, Calvert, St. Marys and Charles counties.
For non-travel teams, or teams outside that area, we will accept special requests.
Please send all questions to the Program VP, Shawn Bingham, at programs@waldorfsoccer.com.